Landscape design innovator and father of the Adventure Playground, M. Paul Friedberg confirms, "Our problem is that We want the child to be living in a padded box. But a child has to have the real world, fraught with challenges to overcome."
Friedberg's conviction seems to have held true in England, as full-time employees staffed each adventure playground to oversee creative activities and aid in the general upkeep of the materials.
The playgrounds' need for heavy community involvement and much maintenance would later figure into their demise.
ADVENTURE PLAYGROUNDS
http://www.playscotland.org/assets/Shier-AdventurePlaygrounds.pdf

A HISTORY OF CHILD'S PLAY IN THE USA
Meanwhile in the United States, the movement caught on quickly. Adventure Playgrounds sprouted up in locations all over the New York, predominantly in Manhattan.
The new layouts updated the 1930s playground's repertoire of metal swings and sandboxes.
New ways of thinking about play space became fashionable, with prominent architects such as Louis Kahn and Isamu Noguchi's proposing designs for Riverside Park.
Adventure playground builders designed with natural materials to integrate the play area into the land itself. The playgrounds "fit" in the colors of the materials used: stone, concrete, wood, metal, sand.
Adventure playgrounds in New York City more often contained innovative shapes for kids to climb in and around rather than raw building materials as in the European sites. Federal regulations with high standards on safety stifled the use of rougher materials in playgrounds.
Many parents began to worry about the possibility of injury in the tunnels and massive play shapes that blocked visibility of their children at play. Others felt the constructions should be preserved as landmarks, especially the ones designed by famous architects.

Soon adventure equipment lost out to colorful catalog models with less sand and fewer moving parts. "Times change," Commissioner Henry J. Stern proclaimed.

(Reproduction of a Parks Department historical sign. Reprinted with permission).
In 1948 Drummond Abernethy had appointed as the secretary of the Childrens and Play leadership Department of The National Playing Fields Association Playground Committee.
Shortly after in 1950 the NPFA through Pathe News distributed the following film highlighting the need for play provision.
Drummond Abernethys s energy and vision led to the establishment of other projects and played a significant role in refining Sørenson's ideas into adventure play.
The name change from junk to adventure play was designed to create a more positive public image but it also marked Drummond's extension of the original philosophy.
Drummond and Lady Allen together are widely viewed as the two most important figures in the development of adventure play in Britain.
These early adventure playgrounds tended to be run with extremely limited resources and to be short lived due to lack of funds, loss of site or lack of local support. Lessons were learnt and the London Adventure Playground Association (LAPA) was established.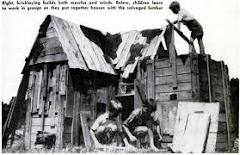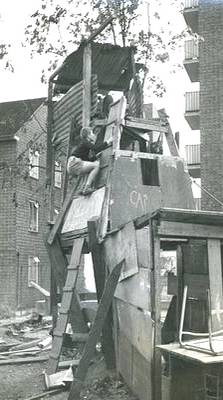 St Johns wood Adventure Playground 1963
Initially the N.P.F.A achieved much, to draw attention to the provision of recreational playing fields for the physical and mental welfare of the nation. Subsequently a Royal Charter incorporated this provision in 1933.
Around this time the first U.K. adventure playground experiment was created at Morden (Wimbledon) in the back garden of a local ladies home.
(Years later in I973 I was shown an album of pictures by this very lady when she visited the Pin Green Adventure Playground in Stevenage, when i was Pin Greens playground Manager.
Eventually a number of playgrounds were set up on permanent sites with adequate funding. This funding was increasingly provided by the local authorities, who had come to recognize the value of such facilities.
By 1973 when i was managing Pin Green adventure playground in Stevenage Herts, sixty one such playgrounds had been established across the country.
Adventure playgrounds for the handicaaped or disabled.
Despite these remarkable developments adventure playgrounds were still failing to meet the needs of one important group of children - those with disabilities. To fill this gap, a number of holiday schemes were set up in conjunction with the Cheyne Centre in Chelsea
The success of this venture fuelled enthusiasm for an adventure playground where children with disabilities could learn through free play. In February 1970 the Handicapped Adventure Playground Association (HAPA) opened its first playground in Chelsea.
H.A.P.A opened a further 5 adventure playgrounds across North, West and South London. In the 1990's, H.A.P.A had changed its name to Kids Active and more recently merged with another charity KIDS.
Whilst working with local playgroups, Mrs Diana Casswell first had the idea that certain children she was working with would benefit from adventure play. From this idea Diana Casswell, along with her husband Reverend Peter Casswell, set about starting the first adventure playground for children with disabilities outside of inner London.
From the beginning, a group of committed and experienced people joined the management committee to see the creation of ELHAP.
The first major hurdle was to find a suitable site for an adventure playground and by September 1976 negotiations had been completed with the charity Bernardo's for use of this site.
Work to adapt it began immediately. A workable area had to be fenced off, structures and play facilities built and pathways laid. Indoor adaptations also had to be made including additional toilet accommodation together with provision for wet weather activities.
. In the summer of 1977 ELHAP opened, being well used from the start and as facilities and awareness grew the playground became increasingly popular. Within a short time of opening demand was such that a timetable of use had to be created to allow all the users to regularly visit. Without the dedication and determination of the Casswells and the other founding members, ELHAP could never have existed.
The Fair Play For Children campaign.
The Bishop of Stepney Trevor Huddleston appealed for massive support nationally to provide space and facilities whereby children could play safely. Subsequently his appeal was reflected by the intervention of the N.P.F.A, because of this intervention an action group was formed by the Bishop.
It had been revealed that a young lad and friend of the Bishop had been killed playing in the Regents Canal thus the Bishops letter to the Times.Appealing for play space for children.
Organisations and individuals nationally became involved in play provision, they worked together to mount a new campaign entitled Fair Play for Children, which is still operating to this day as a play pressure group.
THE TIMES ARTICLE IN FULL
http://fairplayforchildren.org/pdf/1284227742.pdf
The ThurrockDiploma in playleadership course.
These two distinct areas of child play, that of play leadership and the adventure play work movement, came together alongside a full time course at Thurrock College. Plus other comparative courses at Kennington College (London) and Stockport Technical College. Many other training courses followed in later years, all spearheaded by the N.P.F.A
From its first days ELHAP was fortunate in having the support of Drummond Abernethy. Drummond lived locally in Loughton and always had a particularly keen interest in ELHAP. Upon his retirement from the National Playing Fields Association in 1978 Drummond became chairman of ELHAP. This was a position he retained until ill health forced him to stand down in 1986, although he remained on the executive committee until his death.
A large part of ELHAP's success is attributed to Drummond Abernethy. Under Drummonds guidance ELHAP developed into a thriving playground and its unique experiences have now been enjoyed by many thousands of children with disabilities.
Since 1977 ELHAP has offered adventure play opportunities to children and young people with disabilities from the local area. It remains one of only seven specialist playgrounds in the South East of England, but is regarded by its supporters as the most unique and magical of all the adventure playgrounds.
Drummond Abernethy, with his wealth of adventure play experience, used to describe ELHAP as the "very best adventure playground for children with special needs".
Numerous other play campaigns over the years ahead were to include ; The Lollipop Brigade; for improved nursery education, supported and led by Mary Bruce of the P.P.A, (Pre-School Play Association) who was to attend regular play meetings held at Play Field House. (which I also attended)
PLAY LINKS at FAIR PLAY FOR CHILDREN
http://www.fairplayforchildren.org/index.php?page=Links
LEARNING -PLAYGROUND GAMES DURING THE LAST 100 YEARS
http://www.bl.uk/learning/langlit/playground/index.html